Since the inception of high-quality cameras in smartphones, taking pictures has become so fun and easy. Many people are so fond of clicking pictures and have a huge collection of their pictures. However, our photo libraries become cluttered and disorganized after a certain period. Hence, a need for the best Duplicate Photo Finder arises.
Owing to the fact that not all duplicate image checkers could be perfect, we have tried and evaluated some of the top software on the basis of numerous factors. You can go through the list of top Duplicate Image Finder and choose the best one as per your requirement.
A List of Best Duplicate Photo Finder Tools:
1. Auslogics Duplicate Photo Finder
This is one of the highly preferred Duplicate Image Detectors among users. It is an ideal application to remove useless files to free up disk space. This software is capable enough to remove duplicate photos from a system in bulk. It offers a fast scan and generates accurate results even when the file names don't match. This duplicate photo finder tool supports other file types, including videos, documents, and much more.
Main features of this application:
Can help you find duplicate images, music, videos, and other files
Performs quick scan through the system to search for duplicate files
Completely free duplicate photo finder for Windows OS
Tried and tested algorithms to ensure that you don't get any false positives
It lets you decide and select which copies you want to delete
Supported Platforms: Windows 7, 8, 8.1, 10, and 11.
Pricing: This application is completely free to use.
2. Duplicate Photo Cleaner
Are you looking for the best Duplicate Image Finder software that is compatible with both Windows and Mac OS? If yes, then your search ends here as we have found you an application that encompasses advanced 9 scan modes to help you find duplicate photos depending on your requirement. Additionally, the software has the capability to detect similar and duplicate photos within your PC.
There are many other smart features that make this application a top choice for users. Some of those features are listed below:
Works with almost all major image file formats like JPG, PNG, RAW, GIF, TIFF, HEIC, Apple ProRAW, etc.
Sector details scan will scan all photos and compare them on the basis of an element within them
Offers users an option to detect similar or duplicate images
The folder comparison mode lets you choose a source folder and compare the photos in another folder.
Lightroom Scan quickly cleans up duplicates from your Adobe Lightroom catalog
Supported Platforms: This best duplicate photo finder works on Windows 11, 10, 8, 7, Vista, and XP. Additionally, it is also compatible with Mac OS X 10.8 to 13 (Ventura).
Pricing: The Pro version of this application is available at only $39.95.
3. Gemini2
This tool differs from the other tools mentioned on this list. Gemini2 scans your PC deeply, finds identical pictures, and helps you free up storage. You can use its smart cleanup feature for accurate results. Apart from finding pictures even if these are in a corner of your Mac PC, it helps clean up copies in iTunes. This application also notifies you of any newly spotted duplicate images in the device.
Key features of this top Duplicate Image Finder:
Finds and removes duplicate files from the remote corners
Ensures a higher accuracy rate in finding photos
Scans your whole disk speed-of-light fast
Spots files that look alike, see how they differ, and delete the unnecessary ones
Finds and removes duplicate photos in iTunes
Supported Platforms: This best Duplicate Photo Finder can only run on Mac OS.
Pricing: You can get a licensed version of this application for just $19.95.
4. PhotoSweeper
This is one of the best solutions for managing your ever-growing collection of digital photographs. It is an exclusive duplicate photo finder that is only compatible with Mac-based systems. Its main function is to remove duplicate photos from internal and external storage. This works by scanning the storage, comparing the images, and providing you with the option to delete duplicates detected.
Main features as per the latest version:
Finds duplicates on internal and external storage
Works smoothly with the latest Capture One and its previous versions
Identifies photos and puts them in a special collection after removal
Helps to define which photo should be preserved in the duplicate photo groups
Inexpensive and works with Lightroom classic
Supported Platforms: This top duplicate image finder works only on Mac OS.
Pricing: You can get the full version of this application for just $9.99.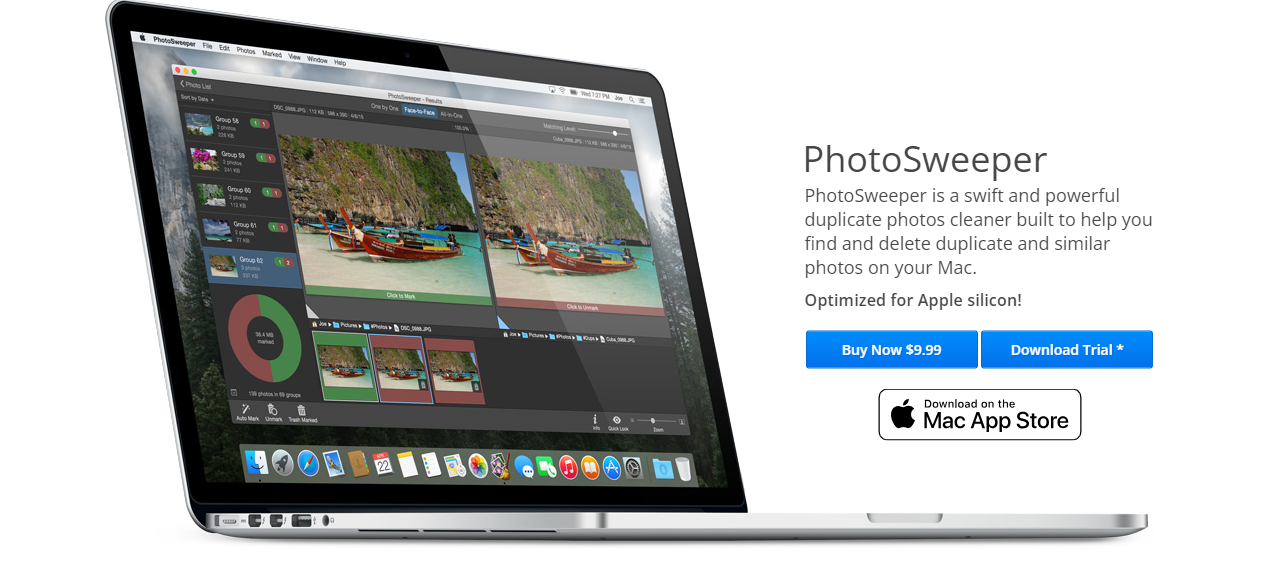 5. PictureEcho
PictureEcho finds duplicate and similar pictures with artful intelligence. It can locate identical photos and saves plenty of time and money. It quickly locates identical photographs that can be removed with a single click. You can go through drives, folders, and subfolders to find the image resemblances.
Main Features of this best duplicate image finder:
It is accessible in a variety of file formats like JPG, PNG, GIF, BMP, TIF, and ICO.
It scans duplicate photos in Adobe Lightroom
Identifies images on the basis of resolution, file size, file history
Identifies similar and duplicate images
Removes 100% duplicate photos
Supported Platforms: You can use this utility on Windows 7, 8/8.1, 10, and 11.
Pricing: The Single Solution (1 License) of this highly rated duplicate photo finder costs $39.97/year.
6. Awesome Duplicate Photo Finder
You are just a few clicks away from deleting duplicate images and freeing up storage. Awesome duplicate image finder is free yet among the most powerful tools presented today. With this, you can stop worrying about your collection's duplicate photos or files. This tool supports all of the common image formats, including JPG, BMP, PNG, GIF, TIFF, and CR2.
Main features of this tool:
This application is totally free to use. Despite being free, this application is free of Adware, Spyware, and Malware
Developed using smart algorithms that can detect exact duplicate or similar pictures
You can search for duplicate pictures through JPG, PNG, TIFF, BMP, GIF, and CR2 RAW
This application doesn't impose any restriction on the number of duplicate photos
Offers an intuitive and user-friendly interface
Supported Platforms: You can run this top duplicate photo finder on Windows 10, 8, 7, Vista, XP, 2003, and 2000.
Pricing: It comes in a free version only.
Read More: You can checkout a list of top Photo Recovery Software.
7. VisiPics
Are you a professional photographer who has thousands of images stored on your computer? Then there are significant chances of having multiple copies of a single image. Thus, you might be seeking a solution that can filter out duplicate images from your system. One such solution is VisiPics best duplicate photo finder.
This is an easy-to-use program that makes sure that all your duplicate photos are detected. Its algorithm uses checksums to find duplicate images. In this application, you first need to select a folder containing duplicate photos and its five image comparison filters help identify how close these images are to each other.
Main features of this top duplicate images finder:
Displays the duplicates with all essential details like size and file type
Auto-Select feature to help you delete photos faster
Effective results that are inclined to their similarity levels
Preview duplicate photos and lets you manually select the ones that you want to delete
Supported image file types – JPEG, PNG, GIF, BMP, PCX, TGA, TIFF, and RAW image file
Supported Platforms: This duplicate photo finder is compatible with Windows 7, Vista, XP, 2003, and 2000.
Pricing: VisiPics comes in a free version only.
Conclusion
The list does not end here as the numbers of tools are unlimited. We suggest you choose the tool or tools that suit your range of preferences as most. By scanning thousands of pictures in a matter of seconds, these tools identify and remove duplicate photos. Hence, they free up valuable storage space on our devices. Some of these best duplicate photo finder tools even use AI algorithms to recognize similar images based on visual content instead of identifying these pictures as per file names or sizes.